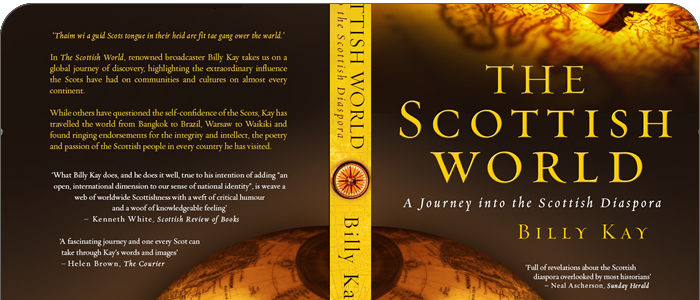 News & Latest Updates
For details of forthcoming
broadcasts and public talks
given by Billy Kay,
News
Cable Magazine February 2018
Scotland's Memoir Film on Youtube
A Crack wi Billy Kay Dundee February 22nd
Don Roberto Radio Scotland February 20th
Award for Scots Video Link
Cable Article Brexit: This is Not Who We Are.
I am delighted to contribute a feature for Edition 8 of the excellent on- line magazine Cable – International Affairs from Scotland.
https://www.cablemagazine.scot/kay-brexit-not-who-we-are/
Scotland's Memoir Film on Youtube
I was proud to contribute to this lovely film about Scotland – this is who we are.
https://www.youtube.com/watch?v=2x8P-nkFJ7M&t=45s
A CRACK WI BILLY KAY Butterfly Café Dundee 7pm February 22nd
Cannae promise the sangs, but the rest is gey accurate! Jyne me an finnd oot.
https://www.eventbrite.co.uk/e/a-crack-wi-billy-kay-tickets-41902652963?utm-medium=discovery&utm-campaign=social&utm-content=attendeeshare&aff=estw&utm-source=tw&utm-term=listing
Organised by the Dundee & Angus Independence Group
DON ROBERTO Radio Scotland 1.30 Tuesday, February 20, 2018
Continues every Tuesday till March 20. Each programme is available on the BBC iPlayer for 30 days.
http://www.bbc.co.uk/programmes/b09s8bt2
A five part series written and presented by Billy Kay which includes the original four archive programmes from 1999 and a new introductory programme for 2018 - The Adventure Begins.
A portrait of R.B. Cunninghame Graham - A true Scottish romantic hero and founding father of both the Scottish Labour Party and the National Party – forerunner of the SNP.
The model for leading characters in George Bernard Shaw's plays "Arms and the Man" and "Captain Brassbound's Conversion". his friends included Oscar Wilde, Henry James and Joseph Conrad. The latter contrasted his own enclosed life compared to the flamboyant exoticism of R.B. Cunninghame Graham - "When I think of him, I feel as though I had lived all my life in a dark hole, without seeing or knowing anything". If ever a major Scottish figure deserved re-discovery it is surely the life and legend of Robert Bontine Cunninghame Graham.
Don Roberto 5 x 28" minute programmes
A portrait of R B Cunninghame Graham, (1852 - 1936) one of the most influential men in Scottish literary and political life in the 20th century - by far the most glamorous and romantic. With Scottish and Spanish aristocratic blood in his veins - he was often called the uncrowned King of Scots due to his family's claim to the throne through their ancestor Robert II. His life spanned several continents and cultures, all of which he touched and in all of which he is revered.
A schoolboy at Harrow, his childhood was divided between London and his family estate at Gartmore in Stirlingshire. As a young man, he followed the Spanish side of his heritage to Paraguay and Argentina. In Argentina he is regarded as a national hero and the father of the gaucho - the man who rode on the Pampas then brought the glories of the South American cowboy to the outside world through his short stories. His legendary status is such that many in the Lake of Menteith area swear that gauchos have come to the Isle of Inchmahome to sing melancholic Spanish eulogies at his graveside. Married to a Chilean poetess Gabriela de la Belmondiere (actually an English actress Caroline Horsfall) his life as a cattle drover and rancher took him all over South America and up into Texas. Everywhere he went, he had sympathy for traditional ways of life under threat, and used his writing to highlight the plight of marginalised cultures. This aspect of his legacy was in the news in the late 1990's when the body of an Ogala Sioux Indian chief was re-patriated from London to the Dakotas. The English woman who organised the event, had read of Long Wolf through the account of his life and death in the writing of Cunninghame Graham , who had befriended him.
On the death of his father, Cunninghame Graham succeeded to the Gartmore estates and he returned to live in Scotland. He became involved with the turbulent politics of the late 19th and early 20th century, and despite his background, always identified with the masses: "the damned aristo who embraced the cause of the people" as Hugh McDiarmid described him. He was Liberal MP for North Lanarkshire from 1886 till 1892, radically espousing the miners demands for shorter working hours and going to Pentonville jail for six weeks following his participation in a banned demonstration against unemployment which resulted in a riot. A close friend of Keir Hardie, he became the first president of the Scottish Labour party when it was formed
in 1888. After the first World War, he became increasingly interested in the Scottish question. He became president of the National Party of Scotland in 1928, and on its amalgamatiion with the Scottish Party in 1934, he became the first president of the Scottish National Party. He died in Argentina in 1936, but his body came home to Scotland to rest in his ancestral lands in Stirlingshire.
Because of his extensive writings on different cultures, his influence outwith Scotland was extensive - the Indian story just one of many with resonances in Spain, Morocco, Argentina, Paraguay, Mexico and the U.S. His short stories like the much anthologised "Beattock for Moffat" on a Scottish exile returning home to die, are also used to illustrate the programme. His polemical writing on Scotland too is increasingly relevant, as the tension between nationalism and unionism in Scottish politics is still unresolved.
Contributors in the original series from 1999 included Rennie McOwan, his great niece Lady Polwarth, her son, the writer Jamie Jauncey, Gustavo San Roman of St Andrews University, the poet George Bruce, his biographers Cedric Watts of Sussex University and Laurence Davies of Dartmouth College, USA, film maker Murray Grigor and Muriel Gibson who recalled seeing him on horseback leading the Bannockburn rallies of the Scottish National Party in the 1930's
Contributors to the new programme include: The weans of Gartmore Primary School and their teacher Miss Falconer, Dr Carla Sassi of the University of Verona; Professor Joe Farrell of the Cunninghame Graham Society, John C McIntyre, editor of The Cunninghame Graham Collection, Collected Stories and Sketches. Writer Chris Dolan who presented the television documentary Don Roberto in 2008, Chris Dixon, Head of Languages at Dublin Institute of Technology. Lachlan Munro, editor of An Eagle in a Henhouse – Selected Political Speeches and Writings of RB Cunninghame Graham, former SNP MSP Rob Gibson and Labour Party activist Gerry McGarvey.
AWARD for SCOTS
Meikle thenks for aw the kind words anent ma speech at #NaTrads. Ablow is a link tae ma bittie.
My section of the brilliant MG Alba programme for those who want to see the wee film and hear my speech. Thanks to all those who have commented on it and who have supported me in the guid cause.
Many thanks to bees knees media for supplying a link to the clip:
Password is: hive01